A Glimpse Into the Classroom
At the Beginning of Every Year...
Each class begins with a phase-in schedule that suits its particular age group. Teachers visit children new to Beginnings in their home before school starts, and every class begins in half-groups and works up to a full day schedule. Clearly, the experience of separation is most sensitive for the Toddlers and Two's. It is a slow gentle process, with the pace of separation determined on an individual basis. This phase-in period usually lasts between six to eight weeks, and parents and caregivers remain in the room to support children until they are ready to separate. Teachers assess when they think a child is ready for separation, discuss it with parents and together work out a plan that is gradual and nurturing.
Toddlers and Twos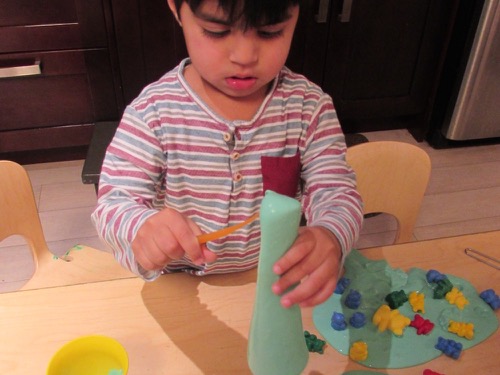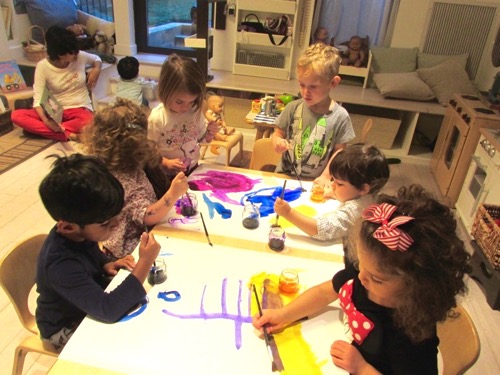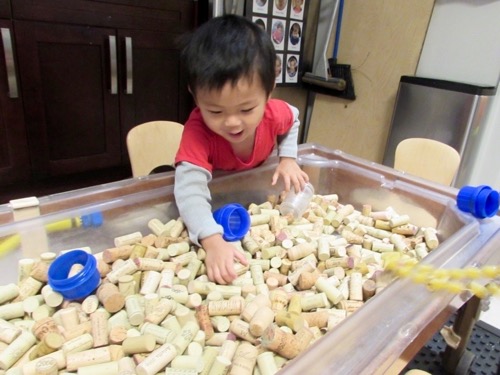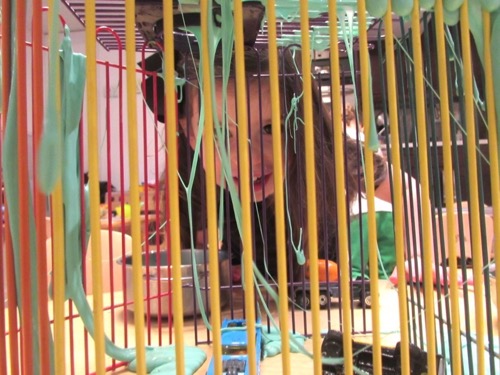 There is a sense of fluidity and constant motion, as small groups of children cluster around teachers in different areas of the room. A small group is at the play dough table, pounding, poking, and changing the shape in various ways. Two children are at the water table, scooping up the bubbly water and pouring it out again. In the center of the room, three children are using plastic tools as they pretend to fix the climber. "Shhh-baby sleeping," one child says to his friend in another part of the room, as they carefully wrap the baby dolls in blankets. In a cozy corner, a child who has just separated is sitting on a teacher's lap, comforted by looking at his All About Me book, filled with photographs of his family. Nearby two children are painting at the easels, happily dabbing paint on each other's paper.
Threes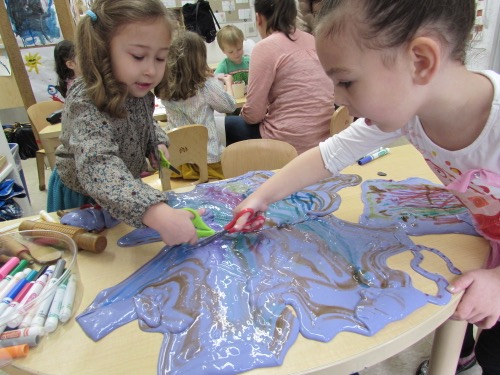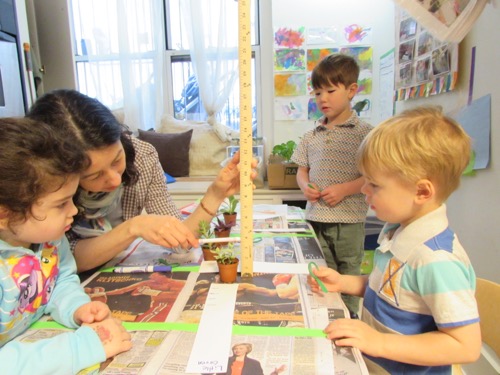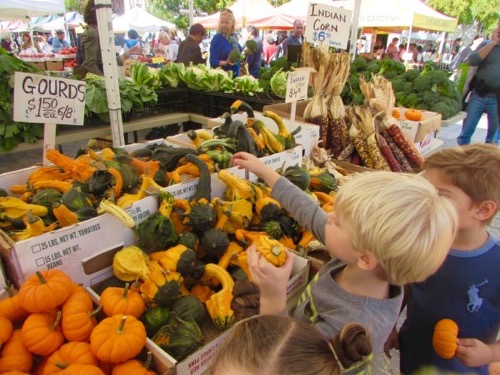 Small groups of children gather in different areas of the room, working independently or with a teacher nearby. In the dramatic play area, three children are acting out one of their favorite stories-Jack and the Beanstalk-and discussing who will be Jack and who will be the giant. With a teacher's help they decide on two giants and one Jack. At a small table, four children are making cookies with a teacher, taking turns mixing the wet and dry ingredients together. Two children are playing at the sand table, which is filled with woodchips, trucks and shovels. They are creating pathways and deciding which way the trucks should go to reach their destination. Two other children are building a tower on the light table with transparent Legos, standing on their toes and reaching high to make it as tall as they can. A few children are doing puzzles together on the rug, while another small group of children are nearby looking at books with a teacher.
Fours and Fives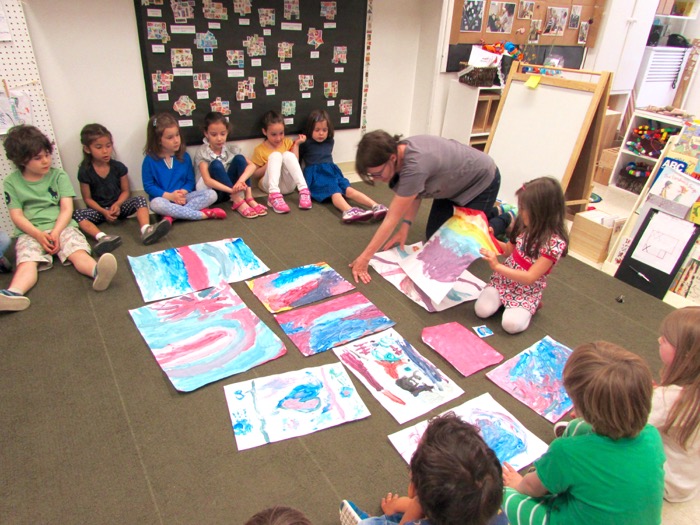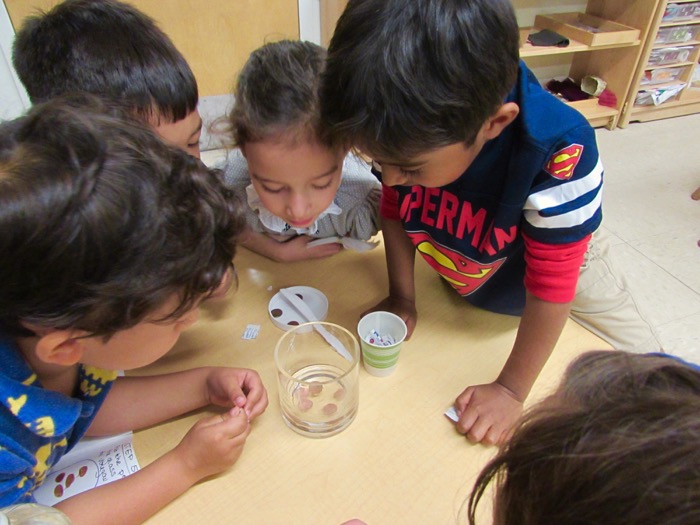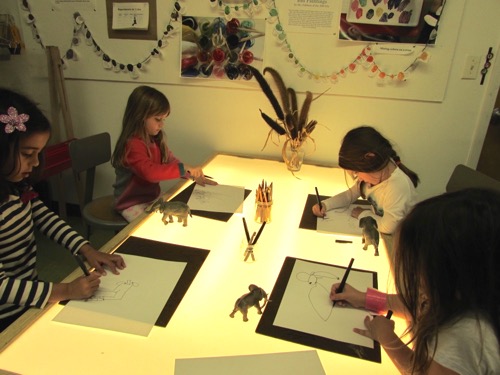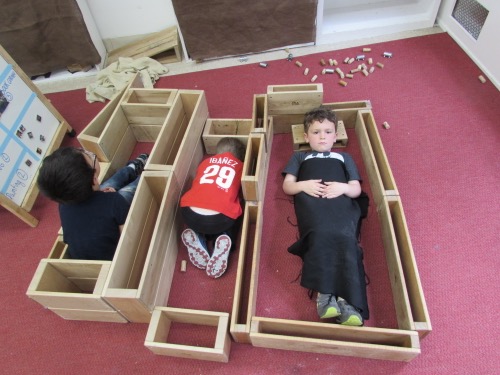 The room seems to buzz with voices, movement and focused activity. In the block area, two children are building an elaborate structure, discussing how many triangular blocks they need to go all around the edge of their building. "It's bursting with color!" another child says to a teacher as she finishes her painting in a different part of the room. A few children in the communications area are making cards for their friends, carefully writing their friends' names and referring to the attendance board to check how each name is spelled. In the Art Studio, two four year olds are helping a group of threes paint their cardboard constructions. In a quiet corner, one child is sitting with a teacher and observing his facial features in a mirror, preparing to draw his self-portrait.